Be aware about Police Central e-crime Unit (PCEU) scam that has been spreading around these days.
This ransomware, just like Metropolitan Police scam, tends to lock entire computer (either laptop or desktop) in order to scare its victims and get some money from them.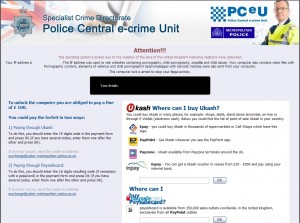 To trick its victim, this program also displays an alert claiming that his IP is found to have visited websites containing pornography, child pornography and other websites with illegal content and now he must pay a fine of 100 pounds.
In addition, users are asked to pay only through the Ukash or Paysafecard. Don't fall for this dangerous application! This ransomware has nothing to do with Specialist Crime Directorate of Police Central e-crime Unit (UK's Metropolitan Police) which is mentioned on the title of this fake alert.
As soon as you get this virus, you find your computer completely locked and you can't do anything on it. Anything! You see only this tricky alert supposedly sent by Police Central e-crime Unit saying that you have violated the law by visiting websites containing pornography and that your computer also contains video files with Pornographic content, elements of violence and other illegal content.
Firstly, keep in mind that this is done for the only reason – to scare PC users and get their money. Secondly - remember that this notification is deceitful, misleading and can be removed from your desktop only by removing the virus.
It's highly recommended to ignore Metropolitan Police fake alerts and remove this ransomware without any delay. Note that there have been noticed the same-looking ransomwares displaying similar alerts in French, English, German, Portuguese and other languages.
However, you may find difficulties when trying to remove Police Central e-crime Unit because it will lock everything on your PC. Try following these steps to overcome this difficulty:
Take another PC that has an Internet connection.
Download Combofix.
Transfer it to your USB flash drive/ memory stick.
Reboot PC infected with Police Central e-crime Unit trojan, press F8 just after reboot
Choose safe mode with command prompt
Launch anti-malware programs from your USB drive
Reboot, update your regular antivirus, scan with it and with Spyhunter, Spyware Doctor, Malwarebytes Anti-Malware or other tools that can remove additional infections.