The head of state of emergency in an interview with ISNA;
Imam Petrochemical Complex pipeline explosion killed and 15 wounded on the left since 3/9 injured are in critical condition.
Head of Emergency Responce explained the details of the emergency pipeline blast Petrochemical Complex (RA) said: Unfortunately, this incident is so far left 15 injured and three killed.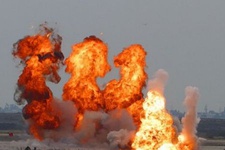 He noted the reports received Fortunately, the fire is under control and in remission.
According to ISNA, still the main cause of the explosion and fire officials have not been announced.