Malacañang on Saturday reiterated its call for a stop to cyber-attacks stemming from the month-old standoff between the Philippines and China over Panatag (Scarborough) Shoal.
Deputy presidential spokesperson Abigail Valte issued the appeal after hackers hit the online site of The Philippine Star Friday night.
"Whoever is responsible, [the attack] does not help anybody. Nakaaabala lang siya. Itigil na natin itong gawain (Let's just stop this)," she said on government-run dzRB radio.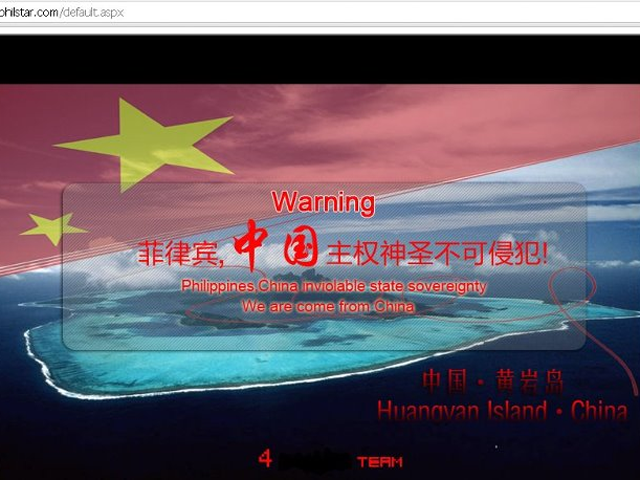 A screenshot of the Philippine Star website as posted on "State of the Nation with Jessica Soho" Facebook page. GMA News
She declined to say if the attack indeed came from China, although the message on the defaced site Friday night hinted the attack came from China.
A screenshot of the defaced website showed a message supposedly from China, claiming sovereignty over Huangyan Island. Huangyan Island is the name China uses to refer to the disputed area.
The Philippine Star website has since been restored.
Valte declined to pinpoint responsibility, saying the Palace at this time is "not making any judgment as to who the culprits are."
"We don't rely on representation na ganoon (We don't rely on the representations in the defaced page)... To whoever is doing it, you should stop, it doesn't help," she said, referring to the message on the defaced site.
"At the end of the day it would help no one, counterproductive ang ganitong bagay," she added.
Last month, Chinese hackers defaced the website of the University of the Philippines, with a message the disputed area belongs to China.
Pro-Philippine hackers struck back, defacing Chinese websites and claiming the area belongs to the Philippines.
Attacks were also reported on the Department of Budget and Management and some Palace websites.
Malacañang and the Department of Science and Technology appealed for a stop to the cyber-warfare, saying it will not help the Philippines' efforts to solve the row diplomatically. — LBG, GMA News