Iran Oil
Submitted by

siavash

on Fri, 08/03/2012 - 23:10
The head of state of emergency in an interview with ISNA;
Imam Petrochemical Complex pipeline explosion killed and 15 wounded on the left since 3/9 injured are in critical condition.
Head of Emergency Responce explained the details of the emergency pipeline blast Petrochemical Complex (RA) said: Unfortunately, this incident is so far left 15 injured and three killed.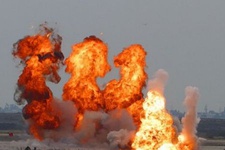 He noted the reports received Fortunately, the fire is under control and in remission.
Submitted by

siavash

on Tue, 04/24/2012 - 13:08
The Iranian oil ministry said on Tuesday its IT systems had suffered no lasting damage from a suspected cyber attack, but its experts would require two or three days to investigate and address the impact of the virus.
The virus hit the internet and communications systems of the oil ministry and national oil company late on Sunday, forcing Iran to disconnect the control systems of Kharg Island, which handles the vast majority of Iran's crude exports, and a number of other oil facilities.